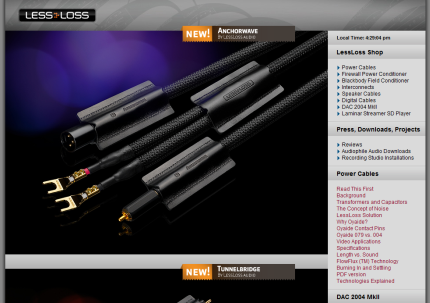 LessLoss Audio | Lessloss.com
LessLoss Audio | Lessloss.com – one of the greatest brands in high end audio, originally from Lithuania. LessLoss is greatly respected and admired brand in high end audio niche globally. LessLoss produces and sells affordable high end audio cables, power cables, high end speaker cables, audio interconnects, rca and balanced interconnects, digital cables, audiophile SD players. All products are being sold globally exclusively online.
The National 2009 Advance the Future Award was presented to LessLoss. The prestigious award, established by the local Chamber of Commerce, was personally presented by the President of the Republic of Lithuania in recognition of LessLoss's successful first two years of success exporting its innovative technologies worldwide.
LessLoss products have tons of independent press and user reviews, which can be found here and here.
LessLoss Audio has sent out thousands of high quality products to a worldwide audience of enthusiasts. Every single client has been treated with the most cost-effective sound upgrade possible. We are happy to provide you with the real-world geographical map of where some music lover is happily enjoying the pristine sound offered by LessLoss products. Click here to see the map.
Web Solutions developed LessLoss Audio web shop and continually supports it. We are contracted partners with LessLoss Audio. Our duties include SEO, Internet marketing, IT support, logistics and order processing (via UPS), strategic management  including industry analysis, generic strategies, global strategy and marketing strategy, brainstorming of new ideas, web analytics and more.
Check to see this project live: