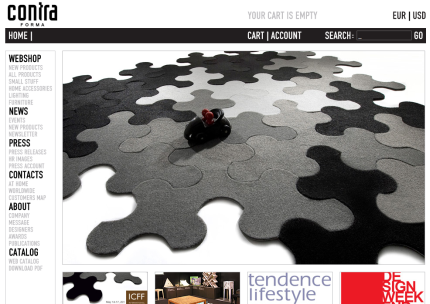 Contraforma furniture | Contraforma.com
Contraforma furniture | Contraforma.com – one of the greatest brands in designer furniture, originally from Vilnius, Lithuania. Contraforma is greatly respected and admired brand in designer furniture niche in Lithuania as well as Eastern Europe and some Western countries. Contraforma produces and sells extraordinary designer furniture, lighting, home accessories and small stuff. All products are being sold globally online as well as through dealers worldwide.
The most prestigious world famous red dot award was presented to the founder and director of Contraforma design studio Nauris Kalinauskas for the seating series LOGO.
"The aim of the red dot award is to make these products stand out from the ordinary, to award them a distinction to commerorate their quality…" Professor Dr. Peter Zec.
The red dot design award, whose origin goes back to 1955, is one of the largest most renowned design competitions in the world today. It is divided into the "red dot award: product design" (Nauris Kalinauskas was nominated), the "red dot award: communication design" and the "red dot award: design concept."
Its logo, the red dot, has a high identification value and is used internationally by award-winning companies as a quality label for good design. It is a symbol of quality recognized all over the world as the mark of an excellent design suitable for mass production.
The international red dot design award ranks among the largest and most renowned design competitions in the world. The numbers speak for themselves: the red dot design award attracted almost 6,000 submissions from 52 countries in 2006 alone. The award-winning products are put before an international public in the red dot design museum.
The award is a seal of quality; it represents the best in both design and business. The winners receive the awards in person on the occasion of the gala ceremony in the Essen Aalto-Theater, which is attended by more than 1,200 guests. All products that have received a red dot will be exhibited in the red dot museum for at least one year.
Among the red dot winners are the most famous world industry leaders like Porsche, Apple, Loewe, Mercedes, Sony and others. From now on Lithuanian names will also stand proudly among these blue chip companies. It is a significant achievement not only for Contraforma, but for the whole country itself!
Contraforma products have tons of independent press and user reviews, which can be found here and all over the online media.
Web Solutions developed Contraforma web shop and continually supports it. We are contracted partners with Contraforma. Our duties include SEO, Internet marketing, IT support, strategic management  including industry analysis, generic strategies, global strategy and marketing strategy, brainstorming of new ideas, web analytics and more.
Check to see this project live: